Vanessa Hudgens is taking a page out of Malala Yousafzai's book after she had an awkward run-in with ex-boyfriend Austin Butler.
The High School Musical alum, 34, posted an Instagram Story video of Jimmy Kimmel speaking to Yousafzai at the awards show.
In the clip, the Academy Awards host, 55, asked the activist, 25, for her take on Harry Styles and Chris Pine's "Spitgate" — only for Yousafzai to say she "only talk[s] about peace."
She captioned that clip in her Story: "Let's all be on the 'I only talk about peace' train," she wrote. "OK?"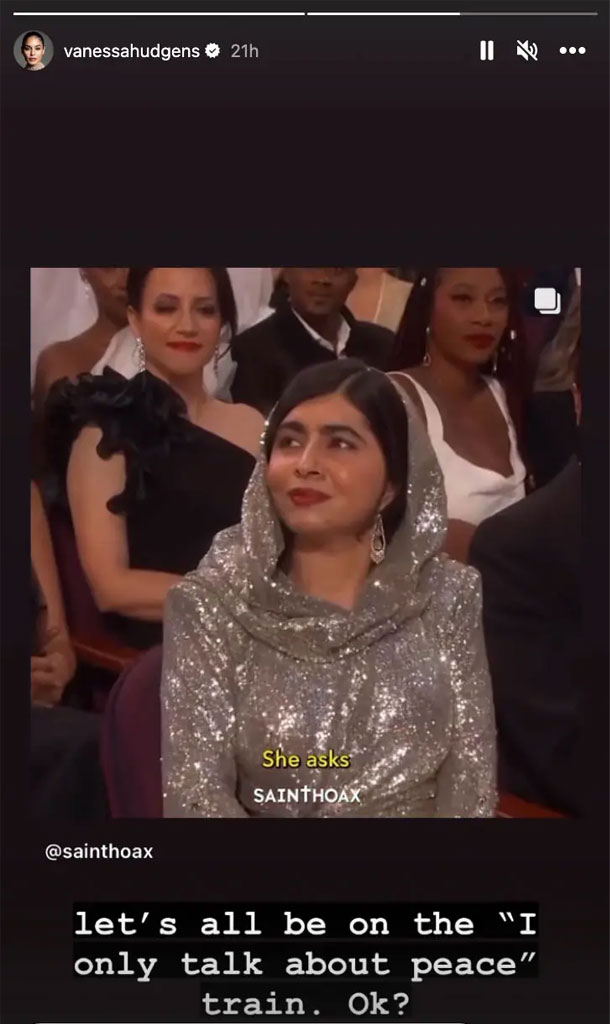 The former couple, who dated from 2011 to 2020, crossed paths at Vanity Fair's Oscars after-party on Sunday, March 12th, 2023, with Hudgens quickly glancing at Butler before looking down at her phone and quickly walking past him.
Butler was standing next to Sharon Stone while waiting for a car outside the swanky event in Beverly Hills, California. For his part, he appeared to glance her way once she walked by. But in reality, he was talking to someone else.
It is unclear whether Hudgens and Butler spoke during the party as he was attending the party with his new girlfriend, Kaia Gerber.
Hudgens has also moved on as she is engaged to Cole Tucker.
Butler spoke cryptically about their past relationship in May 2022, telling GQ that he was seeking a partner with "similar fundamentals" and who wanted "the same things" he did.
During the award season, the actor, 31, was called out for failing to properly credit Hudgens for helping him land the role.
However, he did later admit to Los Angeles Times that he owed his award-winning Elvis role to his ex. "She had this sort of clairvoyant moment and so I really, I owe her a lot for believing in me," he said.