Veteran quarterback Derek Carr is officially on the free agent market, but don't expect him to sign with a team anytime soon – at least according to his brother. 
David Carr, who played for five teams over the course of his NFL career, revealed that Derek's free agency will be a "long process" because he will "do his due diligence" before joining a team.
Since he was released by the Raiders, Carr has been courted by the Jets and also visited with the Saints.
CLICK HERE FOR MORE SPORTS COVERAGE ON FOXNEWS.COM
David shared some details about Derek's recent visit with the Jets.
"He had a great trip, but it's honestly going to be a long process, though," David Carr said in an interview with NFL Network. "He really only has the Saints, the Raiders and the Jets to kind of compare those three places. So he wants to do his due diligence and see as many places as he can to get a feel for what the best place for him will be."
JETS' D.J. REED SAYS DEREK CARR CAN 'NEGOTIATE' FOR HIS NO. 4 JERSEY AMID FREE AGENT RUMORS
David added that Derek "hit it off" with head coach Robert Saleh. Todd Downing is on the Jets' coaching staff, and he worked with Carr from 2015-2017 as an assistant coach on the Raiders staff.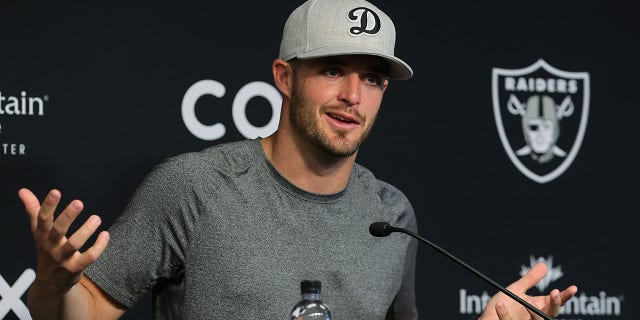 "He went there to get a feel for how they work, from the top down," David said. "Everyone he met – and we knew he would love Robert Saleh; I've known Robert for a while… he's fantastic – they hit it off, and they would love to work together.
"But there's a lot of questions to be asked. He has to find out the inner workings – obviously how the front office works, but then also I think the most important thing for him as a veteran quarterback: What is it going to be like as an offensive play caller and a quarterback and that relationship? Todd Downing is there – he has a relationship with Todd. Nathaniel Hackett is also there. So how does all that work? They had a good chat; they talked about a lot of different things."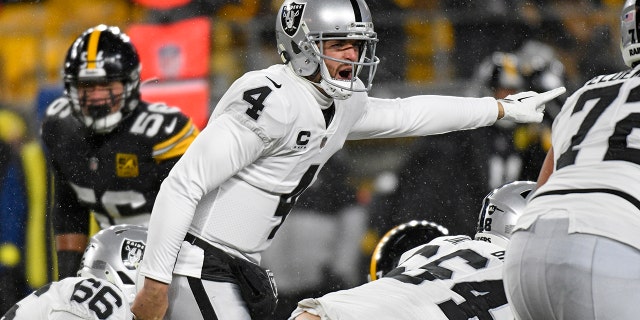 Jets owner Woody Johnson said recently that quarterback was the "missing piece" and that it would create the "ideal situation." Zach Wilson, Mike White and Joe Flacco started games for Gang Green last season.
"Obviously the team is just in need of a quarterback and some stability there," David Carr noted. "They have a lot of good components. There's a lot of things that are very positive about the Jets."
CLICK HERE TO GET THE FOX NEWS APP
The Raiders officially released Carr on Feb. 14 after declining to waive his no-trade clause. 
The roster move freed up around $29 million in cap space for Las Vegas and allowed Carr to hit the open market a month ahead of the start of the NFL's new league year. Carr complied a 63-79 record with the Raiders and holds every major franchise passing record.